Services
Eaton Optometric Group offers a number of cutting-edge vision care services and products.
Comprehensive eye examinations for adults and children.
Eye disease diagnosis and treatment: glaucoma, macular degeneration, diabetic retinopathy, "pink eye", and more.
Systemic disease screening: high blood pressure, diabetes, and high cholesterol.
Dry eye consultation, treatment, and management.
Allergic ocular symptoms (seasonal and chronic).
Specialty contact lens services: keratoconus, multifocal, post-LASIK, etc.
Laser vision correction (LASIK & PRK) pre- and post-operative care.
Technology
We use state-of-the-art technology to deliver the best eye care.
---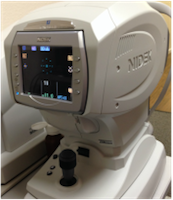 The Nidek Tonoref II by Marco is an auto-refractor, tonometer, and keratometer.
How does this improve patient care?
This little machine can get an accurate starting point of your prescription, measure the pressure of your eye to screen for glaucoma, and measure the curvature of your cornea to screen for degenerative corneal diseases.
---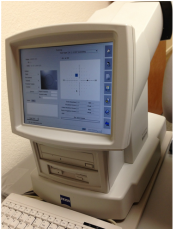 The Zeiss Matrix Visual Field is an automated peripheral field testing device.
How does this improve patient care?
It is a simple and effective test to screen for early glaucoma and possible brain tumors.
---
The Monaco Optomap Retinal Imager provides a detailed, wide-angle retinal image through an undilated pupil.
How does this improve patient care?
For most patients, this means our doctors can accurately and efficiently assess and photo document the health of your retina without the side effects of blurry vision and light sensitivity that occurs with dilation drops. The images allow the doctor to check for problems associated with diabetes, glaucoma and macular degeneration. Since the images are instantly available to view on the computer monitor, our doctors can show you your retinal images during your eye exam and review your retinal health with you. In addition, since the images are added to your patient records, our doctors can review and compare any retinal changes throughout the years for better patient care and accurate referrals.
---
The SightSync device measures how much your eyes are over-compensating when working at distance, intermediate, and especially near.

How does this improve patient care?
According to a 2016 Vision Council report regarding digital eye strain, 65% of Americans experience daily symptoms of headaches, discomfort with computer use, tired eyes, dry eye, neck or should pain/stiffness, light sensitivity, and dizziness. A lack of alignment between your eyes causes unwanted stress on the visual system, resulting in the symptoms above. SightSync can detect if a customized lens, called the NeuroLens, can help with these symptoms.
---
To learn more about the specific products we offer and conditions we treat, please select one of the subcategories below and schedule an appointment with your eye care provider.